The main piece of equipement is a Motorola R-2002D/HD Communications Analyzer, commonly referred to as a Service Monitor. I have a number of options for it to include the external through line model RTL-4055B wattmeter adapter, the standard hand test microphone and a DTMF (touch tone) microphone, the protective carrying case, users and service manuals.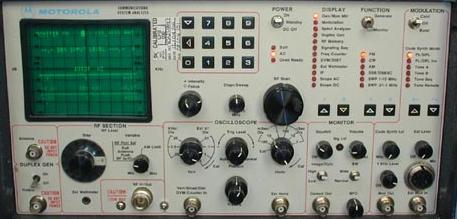 This single piece of equipment provides all the needed signal source and metering required for two-way radio servicing to include: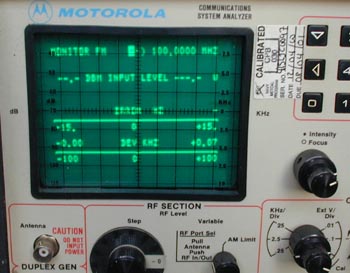 AM, FM, SSB reciever, transmitter/signal generator, low frequency oscilloscope, frequency counter, frequency error meter, 1Ghz Spectrum Analyzer, Modulation/Deviation meter, Sinad Meter, all needed encode/decode signaling (Single Tone, 2 Tone, 5/6 Tone, MTS, IMTS, DTMF, Tone Control, DPL, Digital Paging) tones, 125 watt internal dummy load and more with all parameters displayed on a single CRT tube.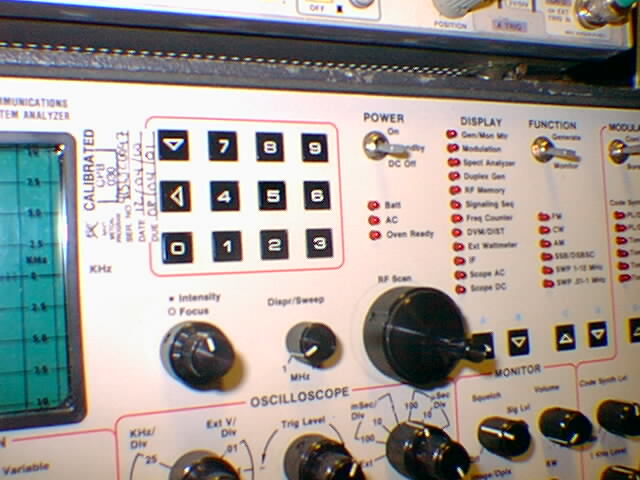 For the external through line model 4055B watt meter adapter for monitoring forward and reflected RF power I have sensors from 2Mhz to 1Ghz as follows:
250w, 2-30Mhz
100w 25-100Mhz/100-250Mhz/200-550Mhz
10w and 50w 500-1000Mhz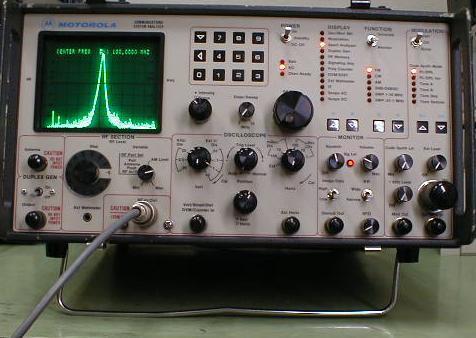 Here are two shots of the inside of the unit. It is clear just from a casual glance that it is a complicated piece of test equipment with many sub systems. Luckily, having the service manual, and not having and major problems with the unit, the usual minor calibration to the unit such as alignment of the horizontal and verticle display is quite simple. The unit even has a built in 10Mhz standard for alignment of the Spectrum Analyzer verticle axis. However, to perform full calibration on the unit does require a complete lab quality test setup.
---
Motorola R-2001D Communications System Analyzer Specifications:
Signal generator Mode
Operating/ Display
Modes: AM/FM/CW/SSB Monitor
AM/FM/CW/DSBSC Generate
Spectrum Analyzer
Duplex Generator
Memory Tables
Frequency Counter
Digital Voltmeter
Wattmeter
IF Display
Oscilloscope
Signal Strength Meter
SINAD/Distortion Meter
FREQUENCY COUNTER:
Range: 10 kHz to 999,9999 MHz
Resolution: 100Hz
Accuracy: Refer to accuracy of master oscillator
RF OUTPUT :
Attenuator: 16dB variable plus 10dB steps over 13 ranges
Range FM: .1 uV to 1 VRMS
Range AM: .1 uV to .4 VRMS
Accuracy: +3 dB maximum with step attenuator in 0 dB position
+ 4 dB in any other mode
FREQUENCY MODULATION:
Deviation: 0-75 kHz peak
Frequency range: 5 Hz to 20 kHz
Modes: Internal, External, Microphone, or all Simultaneously
AMPLITUDE MODULATION:
Range: 0 to 80% from 1 to 500 MHz
Frequency range: 5 Hz to 10 kHz
Modes: Internal, External, Microphone, or all Simultaneously
DOUBLE SIDEBAND SUPRESSED CARRIER
Range: 1 MHz to 500 MHz
Carrier Suppression: -15dB
Monitor Mode
Frequency Range: 10kHz to 999,999 MHz
Resolution: 100Hz
Accuracy: Equal to that of the master oscillator
FREQUENCY ERROR:
Indicator: Autoranging CRT display
Input Sensitivity: 1.5uV for 10dB SINAD
DEVIATION MEASURMENT:
Scales: 1 , 10 , 100 kHz full scale
Accuracy : + 5% of reading
AM MODULATION MEASUREMENTS :
Range: 0 to 100%
Accuracy: +5% of reading
RF WATTMETER:
Range: 1 Watt to 125 Watts
Scales: 9.99 , 99.9 , 125 Watts
TIME BASE :
Standard TCXO: +1 part per million

---
For information on my commercial amateur radio products please click here to send e-mail or visit the main website.
---